Year-Round RV Camping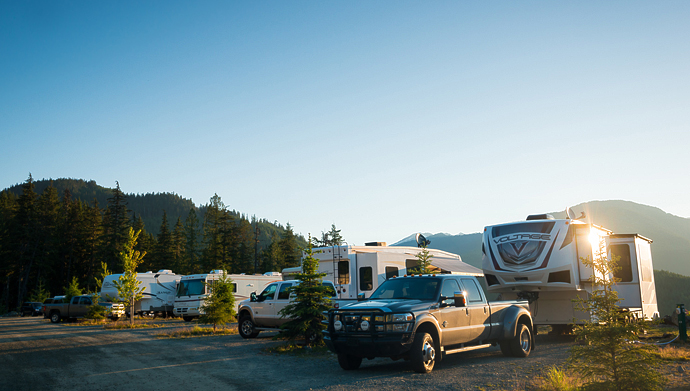 Whistler RV Park offers full hook ups for all our back-in and pull-through RV sites, including sewer, water, and electricity. These sites have ample room for all your pullouts and will fit any sized RV. All sites are also equipped with a picnic table and fire-pit. Nightly rate includes 2 adults and 2 children, additional children are $5. Each additional adult is $5 per night. Pets are charged at $5 per pet per night.
May 1st to Oct 1st
$60-$65 per night (plus taxes)
All weekend bookings during May to September 15th require a 2 night minimum and a 3 night minimum on all long weekends.
October 1st to May 1st
$50 per night (plus taxes)
All bookings at Christmas and New years from December 22 to January 2nd require a 3 night minimum stay.
30 day discounted rates available for October – May. $1050 for 30 days!!!! Email or call for inquiries.
Summer Tent Camping
Our tent sites are located in the forest, surrounded by trees creating a peaceful camping experience. These Sites are also great for smaller Vans, truck campers, bolers, tent trailers and RVs under 27 feet.
All sites have picnic tables and fire-pits. Our tenting area offers a full washroom with free hot showers and easily accessible water taps for your convenience. The nightly rate includes 2 adults and 2 children. Each additional adult is $10 per night. Pets are charged at $5 per pet per night.
Our campsites are closed during winter months.
May 1st to September 30th
$45 per night (plus taxes)
We no longer accept reservations for group camping. Our tent sites are a max of 4 people and 1 tent per site.
Non service sites are perfect for Truck campers, bolers, tent trailers and small RVs up to 27 feet in length.
Cancellations, Please Note:
We require a minimum of 48 hours notice before 11am 2 days before your reservation for all cancellations and changes to existing bookings. Please email for any cancellations. If you must call and we do not pick up, leave us a message so we can get back to you as we need proof you made contact with us 48 hours in advance.
Cancellations and changes made 48 hours or more before your scheduled check-in result in loss of payment of the first day of the reservation, and refund of the remaining amount. Bookings of one day receive no refund.
Cancellations and changes of length of stay made with less than 48 hours notice before your first day of your reservation will receive no refund for the entire stay and/or loss of days when reservation length is changed, for any reason.
We do not give refunds for guests wanting to leave early and are already at our resort.
If you need to change your dates, please contact us at least 48 hours in advance as our cancellation policy applies if not enough notice is given. Changing your dates is only allowed one time, and may affect any special requests you have made. Additional date changes cost $20 per change. If you have changed your dates more than once there is no possibility of a refund at all.
If you need to cancel please email or call us with your reservation number. Refunds take up to 14 business days from the day of cancellation. 
PLEASE NOTE: We are in WHISTLER, British Columbia, NOT JASPER Alberta. We are unable to provide full refunds for guests booking at the wrong campsite, normal cancellation policies apply.
We have a minimum 2 nights on all weekends and 3 nights on all long weekend during our summer months. During Christmas and new years we have a 3 night minimum from the 22nd of December to the 2nd of January.
For long term stay rates and winter pricing please call us at 1 604 905 2523